The City of Ann Arbor is accepting applications for firefighter. All applications must be submitted online at https://www.a2gov.org/departments/Human-Resources/Pages/Jobs.aspx

The posting will close on Monday, January 31st, 2022
Salary Structure: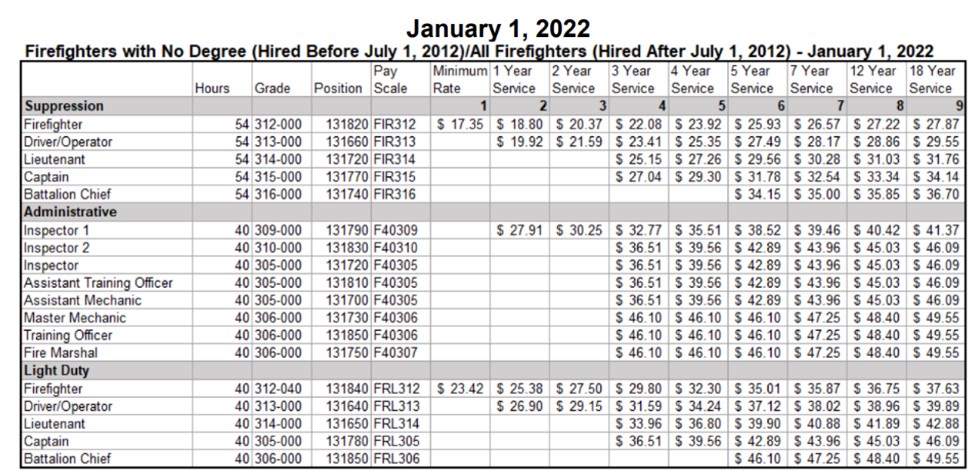 In order to be considered for this position, you must have a Candidate Physical Ability Test (CPAT) certification at time of application.
Essential Duties:
Respond to emergencies with a fire company, may enter burning buildings with hose lines, operate nozzles and extinguish the fire as directed
Operate hand fire extinguishers, fog nozzles and similar equipment in extinguishing fires; raise, lower and climb ladders; and ventilate burning buildings to carry off smoke and gases and assist in returning equipment to service
Rescue persons from danger and administer medical aid as necessary
Perform salvage operations such as throwing covers, evacuating water, removing debris and performing general cleanup at the fire scene
Perform routine housekeeping duties at a fire station, such as mowing grass, cooking, making beds, cleaning walls, washing windows and sweeping floors
Assist with limited repair and maintenance work on fire equipment and apparatus
Attend and participate in training sessions to learn firefighting strategies and tactics, equipment operation, medical aid and street and hydrant locations
Check and inventory all personal protective equipment, firefighting tools and equipment for readiness (e.g. protective clothing, breathing apparatus, rescue equipment, hoses, hand tools, etc.); place personal safety gear on apparatus; check emergency medical care equipment for readiness (e.g. replenish first aid supplies in trauma box). Report any missing, damaged or non-functioning equipment
Communicate with fire crew, other fire crews or supervisors, fire department management staff and incident commanders; follow verbal instructions
Promote life safety and prevention among public contacts
Related Work: Perform associated fire and rescue work as assigned.
Knowledge of:
Basic principles and techniques of fire suppression, rescue, life support and fire prevention
Operation of appropriate apparatus
City geography
State and local traffic regulations
Basic knowledge of computers and software (e.g. Microsoft Outlook, E-Mail)
Basic mechanical aptitude
Basic emergency medical procedures
Basic mathematics functions
Skills and Abilities:
Ability to understand and learn firefighting and medical response information from oral and written sources
Ability to read and write the English language at a level necessary for efficient performance
Ability to understand and follow oral instructions
Ability to effectively communicate in English through oral and written communication
Use modern office equipment, including computers, computer applications and software
Ability to work long hours under stressful conditions
Ability to apply a wide variety of firefighting duties, methods and procedures including the operation of firefighting and medical equipment and tools
Ability to perform physical and strenuous rescue and firefighting work requiring physical strength, coordination, endurance and flexibility
Ability to learn technical information in a classroom setting and transfer this knowledge to actions
Ability to exercise judgment during hazardous circumstances and to act quickly and effectively during emergencies
Equipment: Fire suppression equipment, medical equipment, hand tools, extrication equipment, personal protective equipment (PPE), specialized technical equipment, specialized hazmat equipment, portable radio, and standard office equipment
Training and Experience:
Fire Fighter I and II Certification Required (you are required to upload a copy your Firefighter I and II certifications upon application)
High School Diploma or G.E.D. equivalent
Must be at least 18 years of age at the time of appointment and ability to meet such medical and physical standards as may be required at the time of appointment
Have no felony or serious misdemeanor convictions
Licensing Requirements:
Must possess a valid State of Michigan Emergency Medical Technician license (you are required to upload a copy your EMT license upon application)
Must possess a valid US Driver's License
Possession of a Candidate Physical Ability Test (CPAT) certification at time of application (you are required to upload a copy your CPAT upon application)
ONE of the following is required upon application:
Fifteen (15) credit hours from an accredited college
Active military guard/or reserve or DD214 (you are required to upload a copy of your DD214 upon application)
Empco score of 75% or higher (you are required to upload a screenshot of your Empco score upon application)
May Be Required to:
Participate, earn a certification, and keep certification of the Blue Card Incident Command System when required by the Fire Chief
Pass any written and practical exam specified by the medical control board.
Must possess or successfully complete Pre-Hospital Trauma Life Support (PHTLS) certification and pass a Medical Control Authority (MCA) written exam that is required by the Washtenaw/Livingston Medical Control Authority to provide basic EMT services within the County of Washtenaw within the first six months of employment. This MCA certification shall be maintained throughout your employment with the City of Ann Arbor.
Physical Requirements:
Must be able to adhere to all physical requirements necessitated for a firefighter position.
Essential and related duties may require maintaining good physical condition necessary for sitting, standing, walking, running, climbing ladders, bending, stooping, crouching and kneeling for prolonged periods of time; as well as the ability to lift, drag, hoist and carry different types of fire equipment and other objects. Requires stamina and physical endurance needed to sustain prolonged, rigorous physical activity during emergency situations. Requires physical dexterity as needed to don equipment quickly, tie knots, etc.
In addition, positions in this classification typically require: fingering, grasping, reaching, handling and/or feeling, talking, hearing and seeing (including peripheral vision, night vision, focus, color perception and depth perception).
Physical demands include the ability to lift, push/pull, hold and carry in excess of 50 pounds. The ability to climb step stools, step ladders, extension and aerial ladders, as well as 3 or more flights of stairs.
Very Heavy Work: exerting in excess of 100 pounds of force occasionally, and/or in excess of 50 pounds of force frequently, and/or in excess of 20 pounds of forces constantly to move objects.
Physically able to operate assigned apparatus and equipment. The Driver/Operator occasionally may be required to, and thus have the ability to, perform the physical requirements as delineated in the Firefighter Job Description.
Operating office equipment requiring continuous or repetitive hand/arm movements.
Ann Arbor, MI – Firefighter – Deadline January 31, 2022